Past/Forward: The LA Phil at 100

Edited by Robin Rauzi and Julia Ward
Contributions by John Adams, Refik Anadol, Elliot Cole, Gustavo Dudamel, Tamzin Elliott, Charles Gaines, Frank Gehry, Herbie Hancock, Christine Sun Kim, Josh Kun, Lucky Dragons, John Lofton, Susann Mälkki, Liliana Morales, Andrew Norman, Tim Page, Elkhanah Pulitzer, Peter Sellars, Yuval Sharon, Christopher Still, Akiko Tarumoto, Derek Traub, Kamasi Washington, and Simon Woods

Designed by Content Object, Kimberly Varella in collaboration with Jessica Fleischmann
Visual Curation by Aandrea Stang
Casebound Hardcover, 2 Volumes with Slipcase, 486 pages total
Publisher: Los Angeles Philharmonic Association, 2018
ISBN: 978-0-9716124-1-9
Dimensions: 8.75 x 11 in.
Separations: Echelon Color, Santa Monica, CA
Printing: Conti Tipocolor, Florence, Italy


Published on the occasion of the Los Angeles Philharmonic's centennial, Past/Forward: The LA Phil at 100 is a two-volume book that revisits the history of the LA Phil, meditates on it's relationship to Los Angeles and beyond, and speculates on the future of live orchestral music and it's continued relevance in contemporary culture.

Composed of archival images and interviews as well as artwork looking forward, Content Object worked with Jessica Fleischmann of still room and visual curator Aandrea Stang to design a musical collection that simultaneously occupies the past and future.

Through this publication's design, we hoped to create a structure that can continue to challenge how we explore our roles as listeners, audience members, book readers and designers, long after the pages of the book are closed and the vibration of the last note has faded.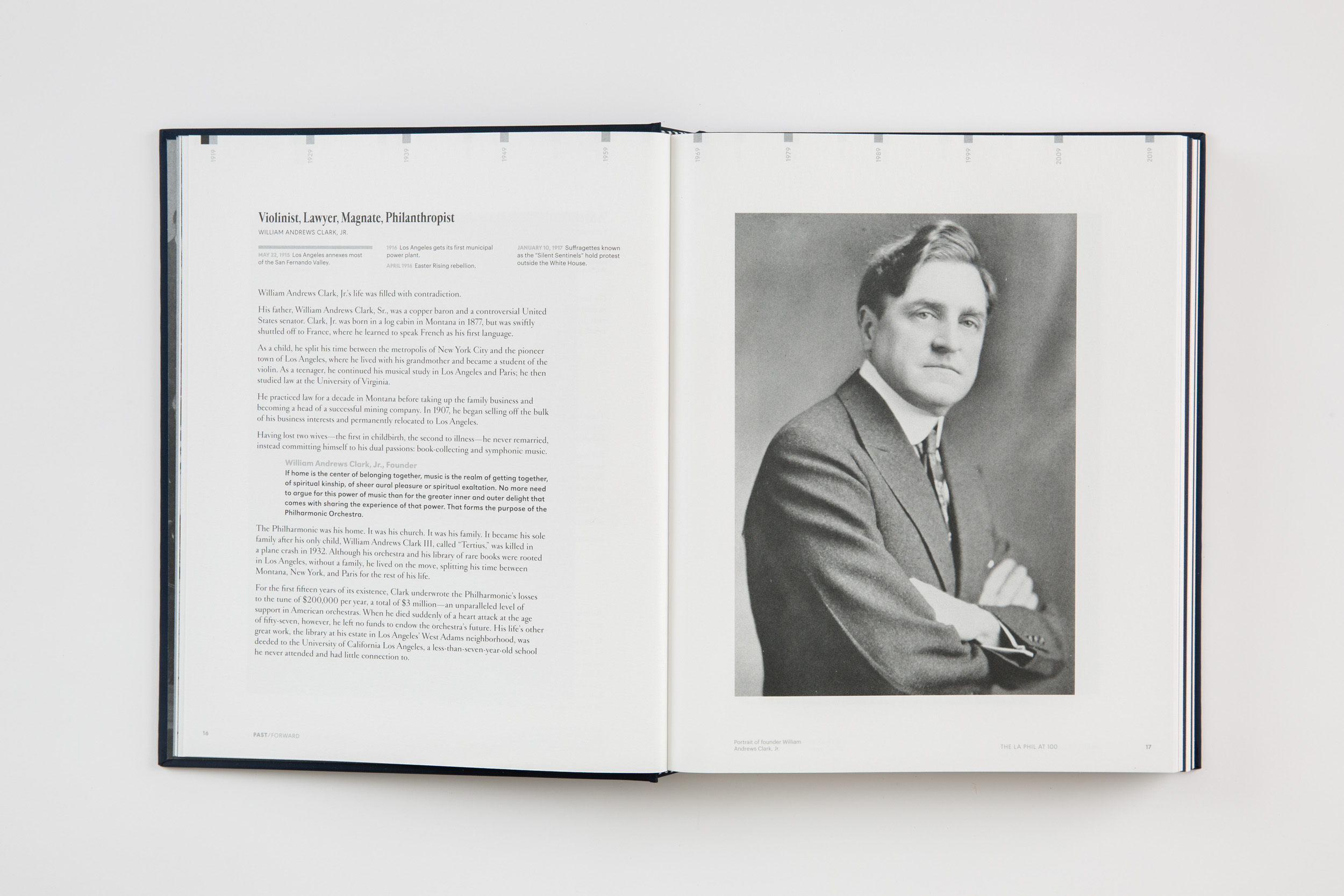 Photography by Ian Byers-Gamber
Text excerpted from the Los Angeles Philharmonic Association