Sara Kathryn Arledge: Serene for the Moment

Edited by Irene Tsatsos
Contributions by Sasha Archibald, Sarah Katherine Arledge, Terry Cannon, Johanna Hedva, Nicole Kelly, Sarah McColl, and Irene Georgia Tsatsos

Designed by Content Object: Kimberly Varella, Design and Art Direction; Sam Wagner, Assistant Designer; David Evans Frantz, Project Manager
Casebound Hardcover, 192 pages
Publisher: Armory Center for the Arts, 2020
ISBN: 978-1-893900-22-6
Dimensions: 6.75 x 10.25 in.
Separations: Echelon Color, Santa Monica, CA
Printing: Permanent Printing Limited, Hong Kong


An under-recognized painter and innovator of mid-20th century experimental cinema, Sara Kathryn Arledge (1911–1998) was a prolific artist who emphasized the eerie in the mundane and the disorienting in the beautiful. Arledge worked at the margins of art history, shaping her practice with idiosyncratic personal myth. She is considered a pioneer of ciné-dance (dance made uniquely by and for the medium of film) and was one of the first to film dance movement to "extend the nature of painting to include time." The exhibition included over 60 of Arledge's vivid works on paper, seven short films, and a selection of hand-painted glass transparencies. The work quietly suggests that subjective, "alternative" normals are equally legitimate.

This accompanying extended monograph on Sara Kathryn Arledge is lavishly illustrated with previously unseen works on paper, hand-painted slides, and film stills, bound in cloth, and features the innovative use of papers of multiple weights, textures, and colors.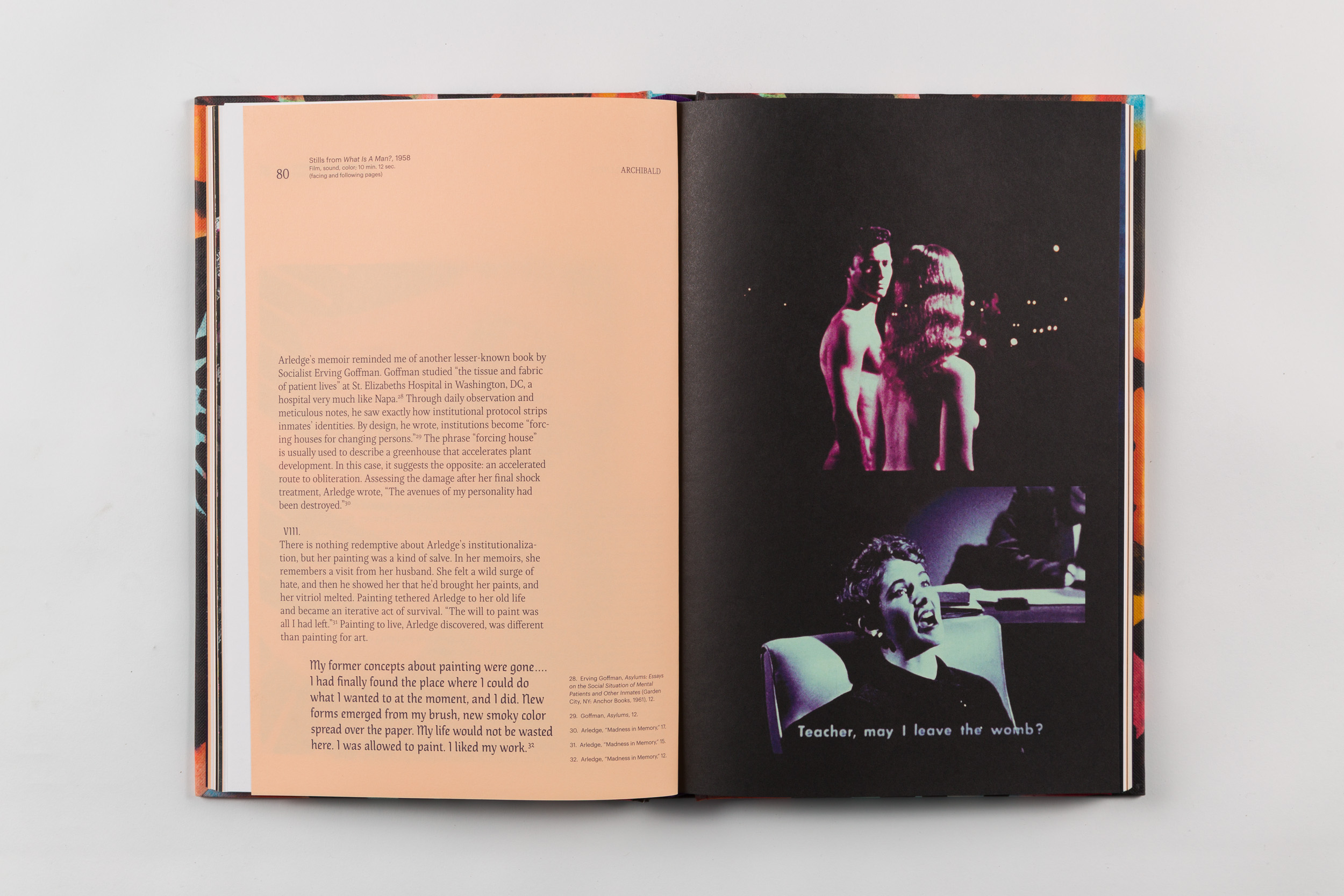 Photography by Ian Byers-Gamber
Text excerpted from the Armory Center for the Arts