by Alison Knowles: A Retrospective (1960–2022)
Edited by Karen Moss with Lucia Fabio
Contributions by Benjamin H. D. Buchloh, Lucia Fabio, Lauren Fulton, Hannah B Higgins, Maud Jacquin and Sébastien Pluot, Alison Knowles and George Quasha, Karen Moss, Julie Robinson, Kristine Stiles, and Nicole L. Woods
Designed by Content Object, Kimberly Varella
Softcover with full flaps, Makeready cover, 272 pages
Publisher: The University of California, Berkeley Art Museum and Pacific Film Archive
Co-published and distributed by D.A.P./Distributed Art Publishers Inc., 2022
ISBN: 978-0-9838813-4-6
Dimensions: 8.75 in. x 12 in.
Manuscript Editor: Deirdre O'Dwyer
Separations: Echelon Color, Santa Monica, CA
Printing: Printed and bound in Italy by VeronaLibri
The Alison Knowles retrospective at the UC Berkeley Art Museum and Pacific Film Archive (BAMPFA) looks at the fifty-year long practice of the artist, a core member of Fluxus, the avant-garde art collective founded in 1962. This is her first comprehensive exhibition, spanning the entire breadth of her still-active career, from her 1960s intermedia works to her 2000s participatory and relational art.
The approach for the book was to dissect and mimic Knowles' methods of production and the role bookmaking plays in her practice. Each unique cover is created from makeready press sheets produced during the printing of the interior pages, taking inspiration from the ready-made vernacular of Knowles' work. The cover of her publication with Something Else Press, the inspiration for the title of the retrospective, is what you're greeted with when you open the book; the colophon of
Loose Pages
, a collaboration with Coco Gordon, sits directly next to the books' colophon.
The plates and the chronology are interwoven providing points of reference to the larger context of Knowles' practice and her role as an educator and founding Fluxus member. The die-cut section dividers are a reenactment of
The Big Book,
an interactive, life-size book that could be stepped or crawled through. These dividers are described by Megan N. Liberty of the
Brooklyn Rail
as an "echo [of] the multidimensional forms of Knowles's own work, not as a gimmick, but as a consistent reminder that we are also holding a work of book art in our hands."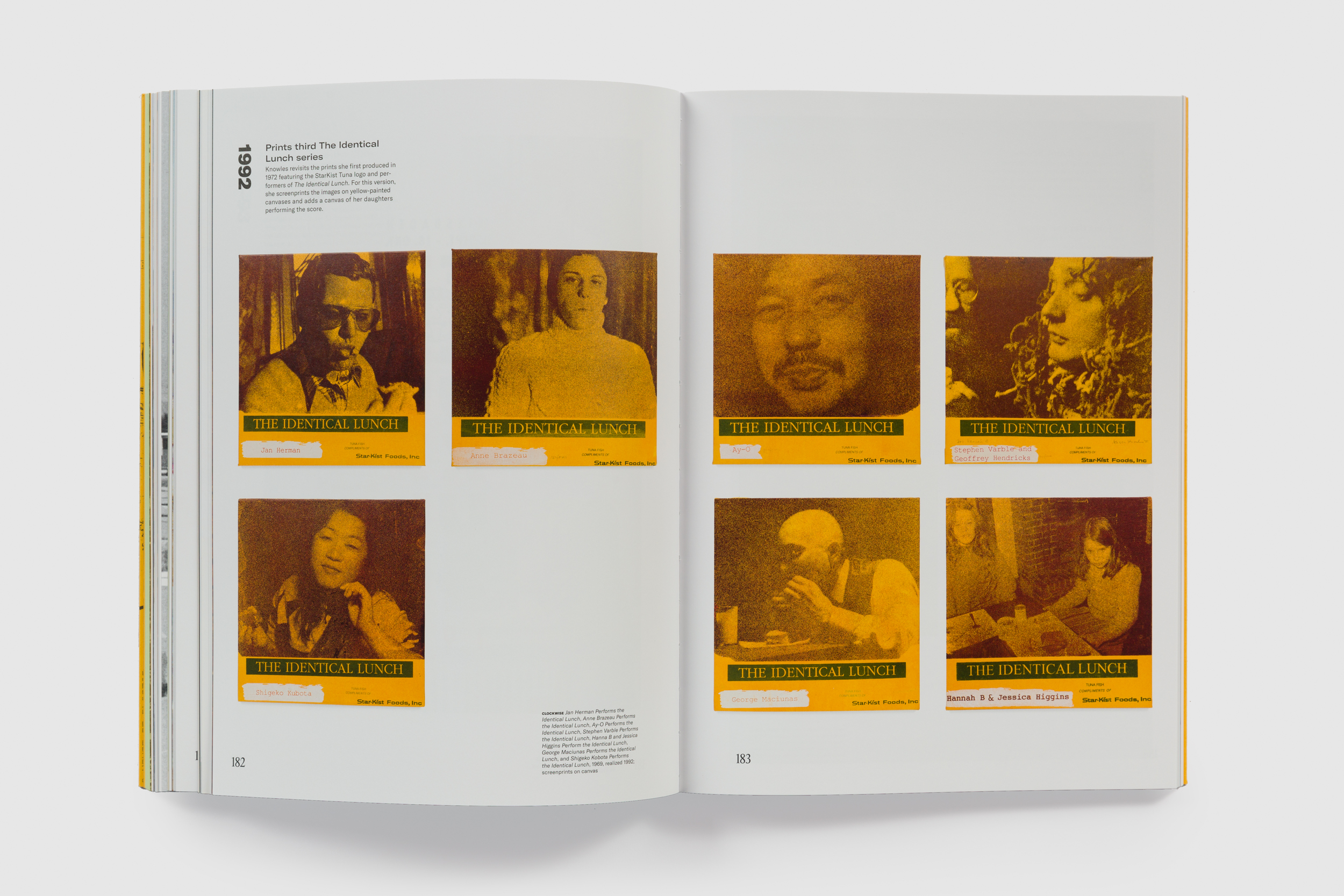 Photography by Ian Byers-Gamber